The new product line of IP68 LINEA LIGHT GROUP
06.03.2012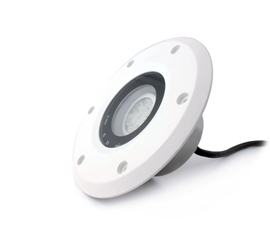 We are pleased to announce that the new family of IP68 products for immersion in stainless steel is now available.
Please note their unique characteristics:
Innovation in quality, thanks to the new amagnetic stainless steel AISI 316, which offers high resistance to intercrystalline corrosion and pitting from chlorides, is resistant both in the atmosphere and in the presence of a wide variety of salts, organic acids, foodstuffs, weak solutions of reducing acids, halides, sea water. Screws of stainless steel AISI 316;
New high-performance optics, with concentrated and recessed beam, inner serigraphy on glass to make to reduce glaring;
Application with IP67 or IP68 casings, which remain the same as before;
Excluding models and Noxina Adonic, all other versions in IP67 remain active, especially for drive-over applications, as the new versions are just walk-over rated.
Furthermore we are introducing a new collection of luminaires THETIS with the same characteristics as to wattage and optical properties, but with the new flange made of TECHNOPOLYMER (PPO-PS). The material is ideal for environments where the characteristics of stainless steel products are not sufficient. The mechanical properties of this plastic makes the flange extremely rigid, while the white surface coating gives the product a minimalist and modern design.
We would like to remind that any product, whether stainless steel or plastic, gets dirty and stained if not cleaned regularly, therefore regular maintenance is required both in the atmosphere and in underwater environment.